AGM & NSM 2014 (Bulletin 242)
18th May 2014 by Ken Kirby
Octopush E-News Bulletin 242
Annual General Meeting and National Squads Meeting

And other news.
Annual General Meeting and National Squads Meeting

The Annual General Meeting and the National Squads Meeting of the British Octopush Association will be held in Ponds Forge Sheffield on Sunday 29th June commencing 10.00.

All Committee positions are open for election:
Chairman - oversees all aspects of the BOA and guides other Committee members. Should have Committee experience to be up to speed with current affairs.
Vice Chairman - Assists all aspects of the running of the BOA.
Secretary - Point of contact for the BOA and assists other Committee emebers.
Treasurer - Responsible for BOA accounts, spending and collection of fees.
Shop Manager - Responsible for all aspects of running the BOA shop including stock control.
National Chief Referee - Oversees all aspects of refereeing including referee courses, referee time logging, rules and competitions.
Competitions Manager - Runs all BOA tournaments.
Sports Deevelopment Officer - Looks at any way of taking our sport forward, oversees the trial kits and liaises with new clubs.
Student Representative - Liaises with the student bodies to promote competition and encourage membership of the BOA.
Webmaster - Looks after the web site and associated IT.
News Editor - Promotes the BOA in all aspects of the media.
Committee member - There is space on the Committee for ordinary members with no portfolio to give a balanced input into Committee affairs.
Any items for the Agenda must be sent to the Secretary or Chairman at least 14 days before the AGM. Items not on the agenda will be discussed in any other business.
A History of the BOA
In the past Alan Blake and others have written brief histories of the BOA. After his sad demise Cliff Underwoods collection of old news magazines was passed to us.
From all of this information I have put together a brief history of the BOA. which is available in the documents section of the web site.
Referee Courses

Teams going to tournaments are going to be asked to provide qualified referees.
This means there is an urgency to get as many people qualified as possible.
Referee courses are provided free to BOA members (£30 to non members) so the only cost to you is your time.
All you need to do is to arrange a local group of about 12 players and a room with projection facilities for a whole day (9 to 5) in the classroom. The BOA will provide a tutor who will work out the best date for you.
Just contact referee(at)gbuwh.co.uk.
The referee course is also useful for established referees to keep up with the rules and signals, and is good for players to learn the rules to play to.
Referees Course Sponsorship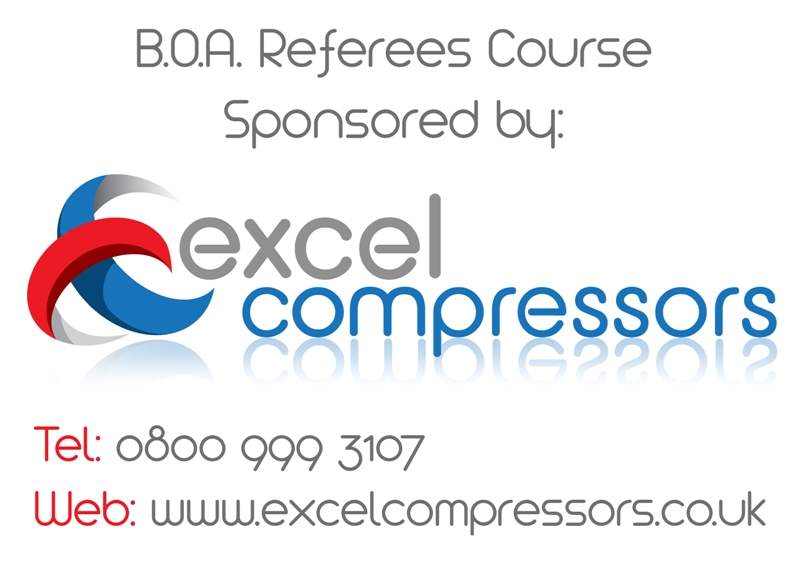 Excel Compressors are currently sponsoring our referees courses, which is currently saving the BOA at least £100 - every time we run a course.
If we can get them some recommendations, this may be extended to cover referees kit.
Compressors are used in a wide variety of places, from car servicing and MOT stations, to ships, food production and manufacturing of all sorts.
If you use Excel Compressors or just make enquiries please remember to mention the BOA as this could lead to continued sponsorship.