Scottish CRB checks (Bulletin 239)
13th December 2013 by Ken Kirby
Octopush E-News Bulletin 238
Scottish CRB checks

Scotland has its own system of CRB (Criminal Records Bureau) checks which members in Scotland may use instead of using the new DBS (Disclosure and Barring Service) system.
If a BOA member in Scotland would prefer to use the CRBS then forms are available from BOA admin in the same way the the GB forms are.
Please state that you would like to use a scottish form.
If applying through the scottish PVG ( Protection of Vulnerable Groups) system a disclosure will be sent to the applicant and to BSAC who will send it on to the BOA.
We can only accept disclosures through our own umbrella body which is BSAC, we cannot accept certificates obtained through other bodies.
If you use the whole of Great Britain DBS system then the disclosure is only sent to the applicant and it is their choice if they wish to share that information with the BOA, or any other body.
We can accept DBS disclosure certificates obtained through other bodies,
Ken Kirby
Chairman
British Octopush Association
Referees Course Sponsorship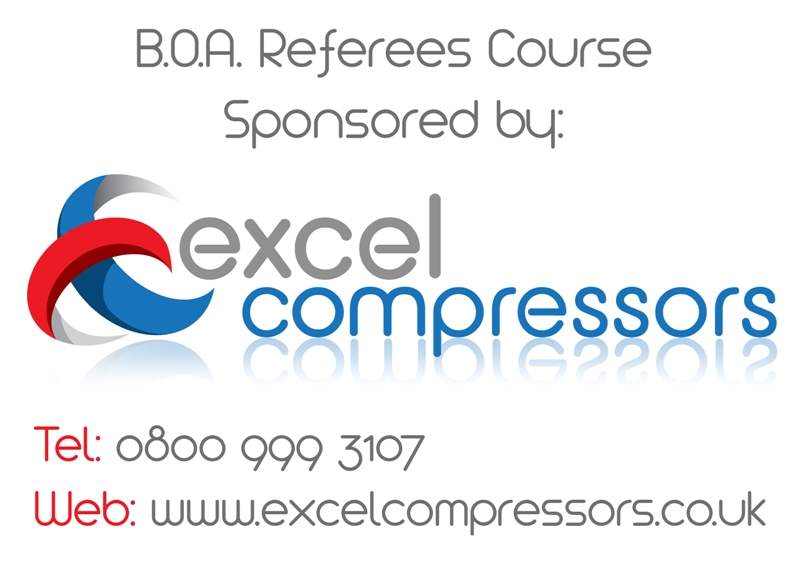 Excel Compressors are currently sponsoring our referees courses, which is currently saving the BOA at least £100 - every time we run a course.
If we can get them some recommendations, this may be extended to cover referees kit.
Compressors are used in a wide variety of places, from car servicing and MOT stations, to ships, food production and manufacturing of all sorts.
If you use Excel Compressors or just make enquiries please remember to mention the BOA as this could lead to continued sponsorship.