Xarifa Underwater Hockey Club
Welcome to Xarifa UWH. [zarefa]
i.e. Competitions or Players selected to play for GB


Xarifa Underwater Hockey 2011 - Courtesy of nicelyframed.co.uk
We have junior and adult members.
Tuesday's at Denton from 8.30pm.
If you would like to have a go or just learn more contact us to arrange the loan of the equipment and guarantee availability of intructors, or feel free to turn up.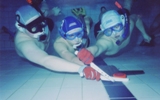 Our Junior club is for swimmers age 8 and above and for competitions we enter teams in Under-12, U-14, U-16 and U-18's.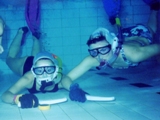 This is one of the few sports were both sexes, young and old can compete on a very level basis.
Training sessions information
Day
Time
Location

Tuesday

8:30 - 9:30 pm

Tameside Wellness Centre,
Lance Corporal Andrew Breeze Way,
DENTON,
M34 3LF



Thanks for looking, go on give it a go, you never know you might like it.

As if that wasn't enough, your first session is free!
If you would like more info on the unusual sport of Underwater Hockey, please check out the 'What is UWH?' page and other links.