A Quick History of Octopush (Underwater Hockey) in Stoke on Trent:
The Stoke Team originated from a Stoke Technical College diving club.
I believe it was in 1980 when the 'advanced diving' training class found the end of season to be too quiet, the then class tutor; Tony Morse had read an article about octopush in the BSAC magazine. Tony then entered Stoke Tech Octopush Club, mid season 1980/81, into the North West of England League - Div 2.
I don't know where the first puck came from, a bucket load of black and white bats were quickly roughed out and we were in action. Soon we were profficiently pushing the puck up and down the pool. The best players were the those who pushed harder, swan faster or who stayed down a long time.
We thought we were good, until we played our first game. Bearing in mind we were against one of the weaker teams in the league, we were still thrashed and equally bewildered. (Back then the game was still fundamentally physical) but we learned quickly, getting just the one win by the end of the second season.
In the early days interest grew fast and the line up rapidly changed. Some of those players still play today EG; Bob Lee, Bob Charlton, and Jim Berry. Phil began playing 1981/82 and Stuart joined for the 1982/83 season, having learned the game at Portsmouth Poly and Southsea. April 1983 Stoke finish 2nd place in the second division.
Then disaster, the pool manager banned the game, siting that we used a 'Cast Iron Puck' - which was not the case. Phil got the mayor of Stoke on Trent and the Sentinel newspaper involved and He, Tony and the Mayor were all interviewed by the newspaper. The story was printed in the sport section and the misunderstanding was cleared up. The following Monday we were playing again.
1983/84 Stoke beat the relagated Merseyside team to go up to Division 1.
1985 and Stoke establish themselves with a third place in the 1st division.
(North West League) Other 1st division teams were Southport, Hazel Grove, Warrington and Huyton (Xavia)). Liverpool and Merseyside were between divisions, In second division were sale, Trafford, Southport B, Manchester diving Group, East Cheshire, and Xarifa). Stoke organised the League from 1983 to 1988 before passing the reigns back to Southport. The Northwest League came to an abrupt end about 1989/90 and was resurrected by Stoke in 2007.
Stoke qualified for the Wilkinson sword competition, between the Yorkshire top 4 and the North-west top 4. Stoke hosted tournaments in 1984, 1985 and 1987 at Cheadle Staffs. In 1987 the Octopush club was separated from the diving club and dropped from the college curriculum. The name changed only slightly; from Stoke Tech to Stoke Free we had 26 members. The name was briefly called Stoke-Willfield until going to Newcastle under Lyme Jubilee pool in 2002 and have remained there.
Phil
1982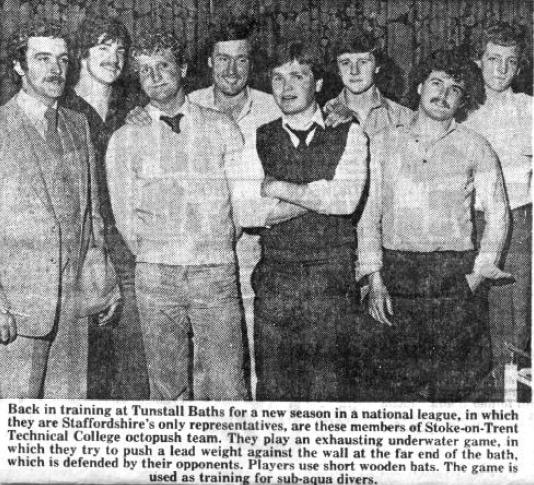 1985