Guildford Underwater Hockey Club
Our Sport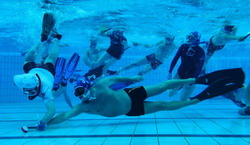 Underwater hockey (or octopush) was first played in Southsea in the 1950s. It's a fast and fun sport played with a puck at the bottom of a pool. It is ideal for confident swimmers of any age / size / fitness, if you are bored with lane swimming, or want to play a team sport. The sport is now played worldwide, there are regular national and international club competitions as well as European and World Championships.
Click on this link for a great video showing the sport: https://www.youtube.com/watch?v=70w_CqOz8fg

Our Club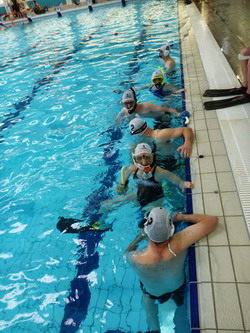 The club was formed in 1990. Our home, since 1993, is the Spectrum Sports Centre in Guildford. During the summer months we also play at Guildford Lido, where we host the popular 'Barbipush' competition (octopush followed by a BBQ). We also host a regular 'Turkey Burn' event between Xmas and New Year, with proceeds going to charity. In 2012 we changed the club's name from 'Farnham and Guildford Octopush Club' to 'Guildford Underwater Hockey Club' to reflect the international name for our sport.
Our Players
The club's members cover a wide range of skills, from novices to GB team members. Some are social players, some take part in competitive events. We have a senior mixed team, a ladies team and several junior teams at different age groups. Some of our players started as juniors and have gone on to win Gold medals at the World Championships, others just play for fun.
Getting Started
We welcome new members from age 8 to adult. You need to be confident in the water but don't have to be a great swimmer to get started. We have a good selection of club kit available to lend you during your first sessions so there's no need to make any big investment up front. We can teach you how to snorkel and how to play the game, from basic puck skills to advanced team formations and tactics. Just get in touch (see below) to start the ball rolling.
This activity may count towards your Duke of Edinburgh's Award Skills Physical Section, please check with your DofE Leader for applicability before attending. (We have number of juniors doing DofE Awards, and have successfully supported this for many years.)

Where and When
Our session times are generally as follows, but please check the latest session timetable for up to date information.
Our Membership / contact details form is here: Contact Details Form.
(If you could complete and Send the form before attending, it will save time collecting contact details poolside. New players, select the "Free Trial" option).
Contact Us
Email contact@guwh.co.uk
(If you email us with a query, we will respond; if you do not see a reply within a few days, please check your Spam folder, or use the Contact Form link above) (No more offers of SEO or printing please). If the link does not work on your browser, please type the address into your email.
Website guwh.co.uk
Facebook facebook.com/GuildfordUWH
Twitter @GuildfordUWH
Instagram instagram.com/GuildfordUWH/
GB UnderWater Hockey gbuwh.co.uk