Mix and Match 4 Tournament 8th September 2014 at Manchester Aquatics
Two junior members Ali Greaves and David Grant, joined senior players, Garry Alexander, Debbie Alexander, Jonny Bostock, Dane Bradwell and Frank Greaves in this the 4th Mix and Match tounament.
Debbie played for the Krazy Krackens who by winning 3 of their 4 matches were equal first with the Lively Lithiums who Ali Greaves played for. Garry and David played on the Mighty Mantas, captained by Jonny, who came 3rd, Dane was on the Hardy Hydrofoils team which came fourth, and Frank played for the Crafty Carvers who came last, not winning any games. The games were all pretty close, with no team standing as outright winners.
The five team format worked well with player rankings getting better.
A big thanks to everyone who was able to make tonight's mix and match (4). Especially to Barrie Whitehead for being a chief referee for the 4 time:-) . Also thanks to all those who reffed in the pool and helped with putting the goals away. Every little helps and is much appreciated. The consensus picked up in the pub afterwards was that having 5 teams of 8 players maximum - with one team reffing while the 4 others played worked really well. Lots of game time for all team members. The next mix and match will be on 15th December..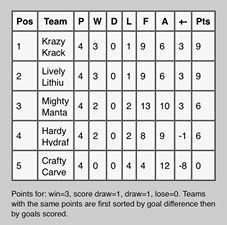 Mix and Match 3
Tournament 21st July 2004 at Manchester Aquatics
Well done to all 46 of you whom played tonight! A big thanks to all the pool refs - John Kelly, Garry Alexander, Tørris , Simon Sangster, Andy Andy Jennions, Stuart Paton, Dane Bradwell, Eric Archer Helen Hyde andRichard Thomas. A special thanks to Keith Higham (Zoe Higham's dad), Daniel Pitchford and Barrie Whitehead for being chief refs and making sure everything ran to time:-))
The real positives were that everyone was well organised and the timings and reffing went very smoothly. The teams were on paper much better balanced but in reality things could still be improved. Thanks for the positive feedback.
Next time a time deadline will be strictly enforced - team sizes increased from 10 players to 12 in each team between 11pm and 1am last night and indie have to turn down 2 others at 5pm tonight.
With the benefit of hindsight if we have number over 40 in future we will run 5 smaller teams with shorter games. The team not playing will provide the 2 water refs per pool and possibly sort out the chief reffing subject to need.
Rochdale players Mick Hyde and Garry Alexander played for the winners Krazy Krackens.
Helen Hyde and Debbie Alexander played for the Hardy Hydrofoils (2nd), Jonny Bostock captained the Mighty Mantas (3rd) and Dane Bradwell played for the Lively Lithiums (4th)
Final scores
Krazy Krackens 5 - 0 Lively Lithiums
Hardy Hydrofoils 2 - 5 Krazy Krackens
Krazy Krackens 7 - 0 Mighty Mantas
Hardy Hyrofoils 5 - 2 Mighty Mantas
Lively Lithiums 0 - 5 Mighty Mantas
Hardy Hydrofoils 7 - 2 Lively Lithiums
2014 - 8th Mar - The 12th Annual MOT
Position (Points)

Team

1st (12)

Dunstable

2nd (10)

Turlough's Team

3rd (18)

Rochdale

4th (6)

Gangem Sto-fford

5th (4)

Xarifa
6th (2)
Liverpool Uni

7th (0)

The Wooden Spoon

Caversham & Henly

The Trafford Fork

...is only awarded to last place of division 1, when there are two divisions.

---
8th MW - Mini Tournament 6th January 2014
Junior member Zach Tait played in this tournament which was the 1st Mix & Match where all players (38 in total) were given a grade by their donating team captains. Teams were created with a mixture of players to balance things up to create a more even spread of ability and skill - this is reflected in the scoring - which was much closer than in previous mini tournaments. Due to some very last minute changes one of the teams ended up with one extra GB squad player which did skew the results. A time deadline will have to be enforced for the next event.
Included below is a list of players for each team, the results tables and the results for each game.
A huge 'thank you!' goes to Neil Dixon for being the tournament referee and chief referee for one of the 2 pools. Also to Mick Hyde who was not well enough to play but with Sharon Doodson (whose husband and 2 boys were playing) managed the timings and scoring etc in the other pool. Also I'd like to thank all the donating team captains for chivvying their team members along to make the event happen.
Looking forward to the next one on Monday 7th April 2014.
Hardy Hydrafoils 3 v 2 Mighty Mantas
Joe Moss 1 Brendan (Rochdale) 1
Jonny Bostock 1 Roger Doodson 1
Roger Arnold 1
Lively Lithiums 4 v 1 Mighty Mantas
Adam Thompson 1 Brendan (Rochdale) 1
Brendan Connelly 1
Emily Hett 1
Jacob Doodson 1
Hardy Hydrafoils 7 v 1 Lively Lithiums
Zack Tait 3 Jack Yule 1
Jonny Bostock 2
Joe Moss 1
Megan McDermott 1
Team sheet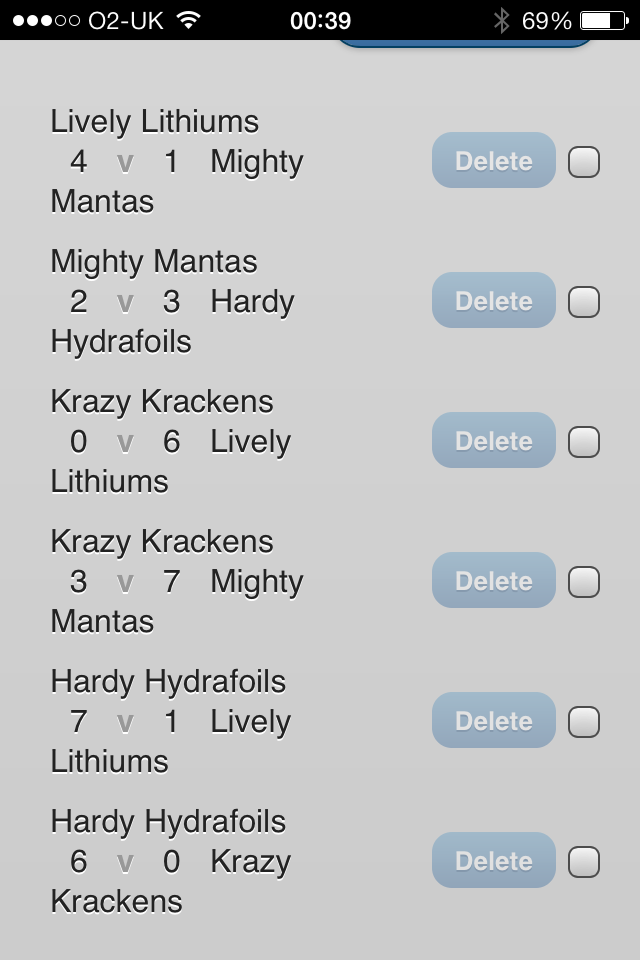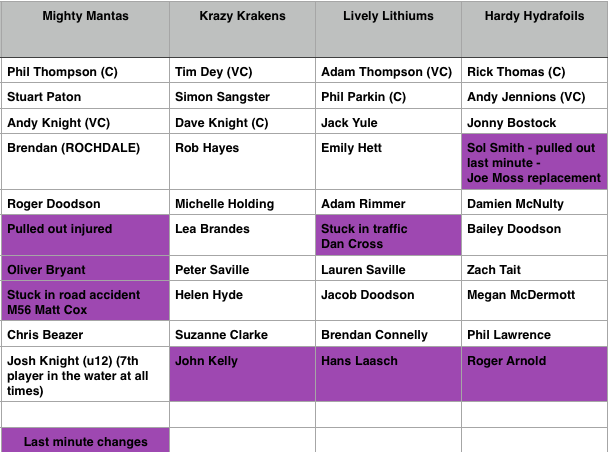 ---
North West League Fixtures 2013-14 (Senior Team)