Junior Nationals June 2016
Club members looked forward to playing in the Junior National Competition on 2nd July. Our under 16's had 6 players: Ethan Redmond (captain), Becci Northover, Jack Midgley, Brandon Marshall, Tiegan Alexander, and Harry Tait, and were joined by Batley members Fiona Maynard (vice captain), Saskia Dixon, Hamish Dee and Kiara.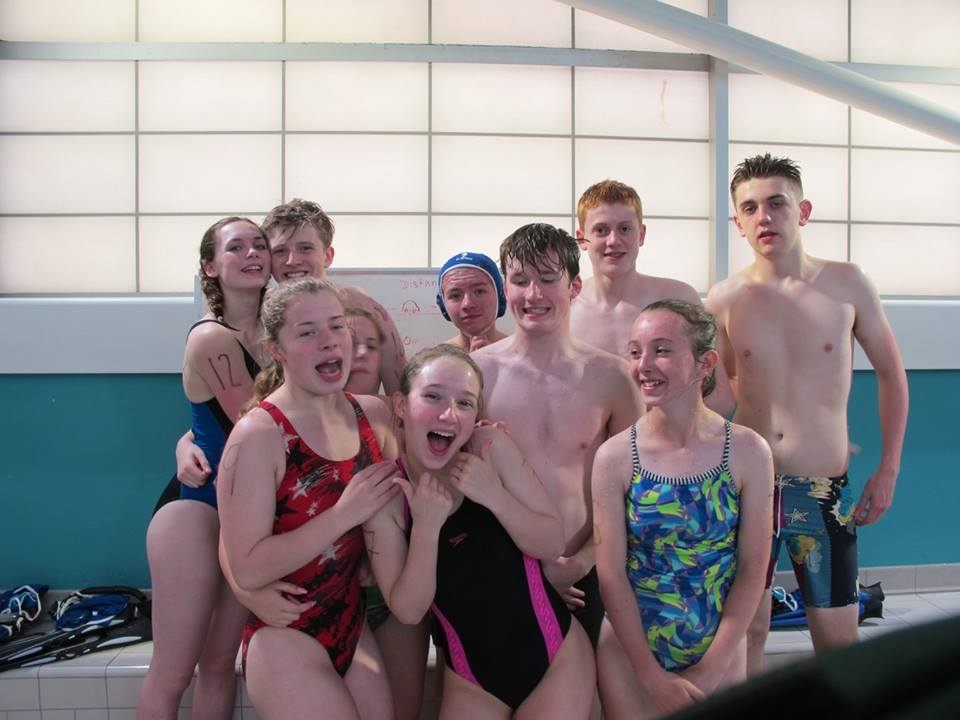 Jacob Redmond played on the under 14's Batley team. They had 9 players and took third place in their age group for a Bronze medal.


Ella Thompson, Imogen Marshall and Sophie Redmond played on a mixed Manchester team and were pronounced National Champions, beating all their opponents for the Gold medal place and title.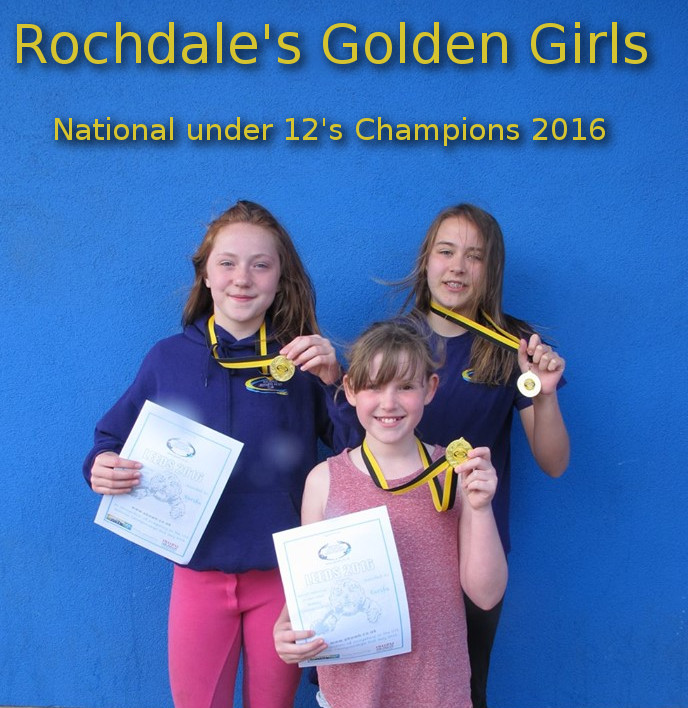 ---
Pancake Tournament, Holland April 16 2016
Isaac Rhodes-Dawson played for North West GB U16s team in the Annual Pancake UWH Youth Tournament held in Dordrecht, Holland. The team took 4th place after playing 8 other teams.
---
M&M Tournament January 11 2016
Senior players, Mick & Helen Hyde, Jonny Bostock, Dane Bradwell, Frank Greaves, and Ian Tate, and Junior players Rebecca Northover, Tanya Harrison, Ethan Redmond, Isaac Rhodes-Dawson, Brandon Marshall and Zach Tait took part in the 9th Mix and Match tournament at Manchester Aquatics. Mick, Helen and Zach were on the winning team (Crfty Carvers) who won all 4 of their games.
---
Nautilus Tournament November 2015
Dane, Zach, Jack, Ethan and Helen all played in the Nautilus National Competition for Southport B team over the weekend 8th November. It was the first time that Ethan and Jack had played in a 3 metre deep pool and their first adult national tournament.
The team was very much a mixture of youth and experience, with a couple of ex-international players and one current GB player(Zach) on the team, won 3 games, lost 2, but should really have won one of those, so no relegation, but no promotion either.
Good day at a well organised tournament.
---
Ethan, Zach and Isaac played well at the Monday 2nd November session.
Ethan scored several goals, but the last one was an absolute peach of a shot, he fired it from 3 metres out, missing the defender's head by 6 inches and landed it in the goal!! Last shot of the session and probably the best. All the extra training is paying off.
Even more impressive, he was using a borrowed bat that he had not played with before.(having forgotten his own and almost all his other kit as well)
---
September 2015
8th September saw the 8th North West Mix and Match Tournament at Manchester Aquatics, where Rebecca Northover and Ethan Redmond took part as Junior players and John Ruston as his first senior tournament.
---
July 2015

13th July saw 8 adults and 3 junior members take part in the North West Underwater Hockey Mix and Match Tournament. Joel Thetford and Isaac Dawson, both Junior players from Rochdale UWHC, were warmly welcomed to their first ever M&M competition, and held their own and then some against the adult players many of whom represent GB and teams who are in the top handful of all the UWH teams nationally. Alison Greaves also played in her second M&M tournament. There was a lot of positive feedback about the contribution made by our Junior players.

Adult players from Rochdale included Frank Greaves, Ian Tait and Helen Hyde, Jonny Bostock and Dane Bradwell. Barrie Whitehead and Mick Hyde were the Poolside referees.

3 GB u19 girls/ladies, who will be playing in the forthcoming world championships, were also playing - Zoe Higham, Honor Sangster and Abbie Thompson all put in 100% effort tonight!


Also a warm welcome to Jon Richards - currently playing with York Uni - originally from New Zealand.


The next mix & match tournament will be held on the 7th September at Manchester Aquatics Centre

---

June 2015

Last Monday saw the Rochdale senior team play against Liverpool University in a North West League game. The Rochdale team play their home matches in the 1.8metre deep training pool at the Manchester Aquatics Centre

Rochdale were missing two of their better players and also had three playing who were fresh back from injury and illness and hadn't played for 3 months. We had also drafted in Tanya Harrison from our junior team to help us out.

Rochdale got off to a good start and went 2 goals up. Liverpool then struck back and scored on a break. From the re-start, Rochdale put a lot of pressure on the Liverpool goal, but struggled to score. The Liverpool subs were constantly swapping in and out of the pool giving them fresh players on the bottom and preventing the Rochdale side scoring, finally the defence cracked and Rochdale were 3-1 up. Almost straight away from the re-start, Rochdale scored again. Then in the next rally, despite a lot of pressure in the Liverpool goalmouth, the University forwards broke away and scored once more. The score at half time was 4-2 in Rochdale's favour.

At the whistle the Rochdale forwards were off like rats out of traps, were first to the puck and cut through the Liverpool forward line like a knife through butter, some swift passing and inter play between Dale's forwards and backs and another goal scored.

Despite Rochdale having almost all the possession and being camped on the Liverpool goal line for most of the second half, Liverpool still managed to get 2 goals back.

The final 5 minutes saw an almost unbroken spell of Rochdale possession with Zach Tait, Rochdale's latest GB under 19 player, show great determination in dodging and tackling his way through 4 opposing players to score.

Two minutes later it was the turn of the youngest Rochdale player, 13 year old Tanya Harrison. Tanya was on the receiving end of a big forward pass which put her clear, she sprinted towards the goal, being chased all the way by the Liverpool halfback, she just managed to get the shot away goal bound as the defender caught up to her. The puck landed in the goal and there wasn't time for play to re-start.

The final score was Rochdale 7-Liverpool 4. A great debut for Tanya who played well through out the game and got her deserved reward in the final seconds.

The Rochdale junior team train at Oulderhill School Pool, Rochdale, Thursday's 7:30pm to 9:00pm. Adult and junior beginners welcome.
The adult team train at Manchester Aquatics Centre, Oxford Road Manchester, Monday's 9:00pm to 10:00pm. Both teams are looking for new recruits.

---
Junior Regional Underwater Hockey Competition Newport International Sport Centre 24 January 2015
Megan Walsh & Jacob Redmond from Rochdale played in the under 12's Northward team with Ben, Nieve and Dan S. from Xarifa & Lilly from West Wickham. Played 7 matches, won 3 drew 1 lost 3 - fantastic effort team Northward. 4th out of 8, missed out on a bronze medal by 1 point.