2012
March 17th
2012 Regional Tournament at Newport South Wales.
Four members participated in mixed teams at varying ages. Kal Torson played for Under 13s north and Teagan Alexander was seconded to Wales Under 11s, but because she should have been on the North under 11s, who won their age group, she still got a winners medal so was chuffed to bits. Ben Scott and Alison Greaves played for north Under 13s development.
More information to follow when we can access the photos
SPORT ENGLAND GRANT

Following an application for assistance to open a new session at Wardle High School, Sport England have awarded us a grant to purchase some new equipment. We are currently coaching WHS teachers and pupils and they will be having their first match on 30th May, so watch this space for more details.
STOP PRESS - RESULTS IN
The match at Wardle High School between Teachers and pupils resulted in a 7 - 4 win for the pupils. Both teams played well considering they had only had 2 or 3 tuition sessions, although it looked as if it might be a whitewash at half time when the pupils were leading 4 nil. The Teachers pulled it back a little and would probably have scored higher if one of their team hadn't pulled out of the match.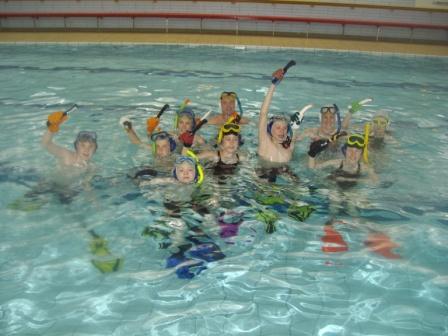 Picture shows some of the team members getting ready for the match.
We will be shortly starting tuition sessions for Smithy Bridge Primary school, which is a WHS feeder school.
June 2nd 2012
Junior Mantas team played in the KAL Games underwater hockey tournament at Batley Sports Centre organised by Batley Barracudas Octopush Club against teams from Dawlish (winners) Teighmouth (2nd) Batley Dragons (3rd) Batley Tigers, Xarifa Titans, and Xarifa Tykes. Although we came last, there was some good play and lots of learning experiences, and we did manage to score a goal against the Tykes.
Our team was mostly under 13 and consisted of Zach and Harry Tait, Julian Capper, David Grant, Matthew Rogan, Jack Midgley, Rebecca Coria, Kal Torson, Alison Greaves, Ben Scott and Alfie Durkin. In addition, Barrie and Ian Tait acted as Referees for some of the games.
June 23rd 2012
Barrie and Ian staffed an exhibition stand promoting underwater hockey at Rochdale Town Hall as part of the Rochdale Feel Good Festival and Olympic Torch celebration.
June 24th 2012
Barrie, Mick and Helen, helped by Kal Torson, Jack Midgeley, Matthew Rogan, Alison Greaves and Ben Scott gave a free 1-hour starter session at Middleton Arena as part of the Link 4 Life's Big Games 2012 sport promotion.
The BIG Games 2012 programme is part of Rochdale borough's celebrations for International Year of Co-operatives. It builds on previously successful 'Open Weekend' events to mark the annual countdown to the start of London 2012. For its work in helping to promote sport, culture and volunteering, the BIG Games has also been recognised through the Inspire programme and has been awarded the Inspire mark as one of the London 2012 family of events being celebrated across the UK.
The BIG Games 2012 is a series of events boroughwide to mark this special year. Taking place over four weekends in June and July, it is a collaboration with around fifty different clubs and groups who are taking part to provide a showcase of sports, arts and heritage with FREE taster sessions for all ages.
1 JULY 2012
Mick, Helen and Ian took part in the British Gas Great Manchester 1 Mile Swim at Salford Quays, finishing with times of 30.29, 32.32 and 33.55 respectively. Well done guys!
Before........
.......and after the swim
Mick
Helen
Ian
7th July 2012
Barrie, Frank, Mick and Helen, helped by Kal Torson, Jack Midgeley, Matthew Rogan, and Alison Greaves gave a free 1-hour underwater hockey starter session at the newly opened Rochdale Leisure Centre as part of the Link 4 Life's Big Games 2012 sport promotion.