Check out this link
Wardle High School
Barrie and Ian gave tuition sessions to pupils at Wardle High School and its feeder schools during 2012 and 2013. Sessions were open to all pupils at the designated schools.
We started with teachers and pupils from Wardle High with the intention of having a match between them. The match at Wardle High School between Teachers and pupils resulted in a 7 - 4 win for the pupils. Both teams played well considering they had only had 2 or 3 tuition sessions, although it looked as if it might be a whitewash at half time when the pupils were leading 4 nil. The Teachers pulled it back a little and would probably have scored higher if one of their team hadn't pulled out of the match.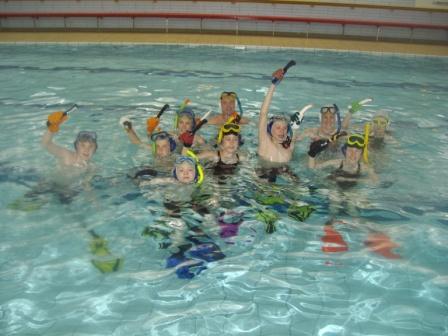 We then started tuition sessions for Smithy Bridge Primary, Littleborough County Primary and Holy Trinity Schools which are all WHS feeder schools. Pupils were offered three 1 hour sessions which included, Introduction to basic equipment and safe use, snorkelling practice including surface dives and breath-holding,Underwater hockey equipment selection, fitting & use, Underwater hockey techniques and practice including pushing and passing, and Underwater hockey match practice. Each participant received a certificate of their achievements.
Having received a grant from Sport England, new equipment arrived which proved essential for ensuring everyone was kitted out properly.

As of end of June 2013 we had trained 125 pupils and hope to continue with the project with new intake pupils later in 2013.