August 2014 Junior News



Started skills and fitness training sessions at Rochdale pool on Wednesdays for the more experienced juniors. Sessions were regularly attended by a core of juniors who demonstrated improvements to their play and tactics
---
Saturday July 19th 2014 -

BOA National Junior Championships Leeds
Rochdale
Mantas u14 players help Batley team take 2nd place in the Junior Nationals.
Under 14 Results


1. Team South West

2. Batley
3. Plymouth
4. Guildford

5. Pembroke
6. West Wickham
Mantas players were old hands Jack Midgely, and Kal Torson, Tiegan Alexander, Rebecca Northover , and Ethan Redmond playing in his first tournament ( Wearing team colours in photo) Batley players were Fiona Maynard, Hamish Dee, Kiara Baillie, Sakia Dixon and Matthew Adams.
Rochdale
Mantas under 12 team just missed out on a medal place in the play-offs.
BOA Junior Nationals Under 12 Results
Our team players were Megan Walsh (playing with a broken finger!), Isaac Rhodes-Dawson, Jacob Redmond, Tanya Harrison (Captain), Ella Tomlinson, Katie Moore and Laura-Jane Boughton
In addition, Rochdale players David Grant and Joel Thetford played for the Xarifa under 16 team to take 6th place.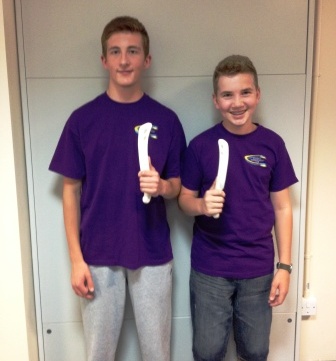 BOA Junior Nationals Under 16 Results
1. Team South West U16
2. Xarifa/Batley U18
3. Guildford U16
4. Orkney
5. Pembroke
---
August 2014 Zach Tait earns GB Squad call-up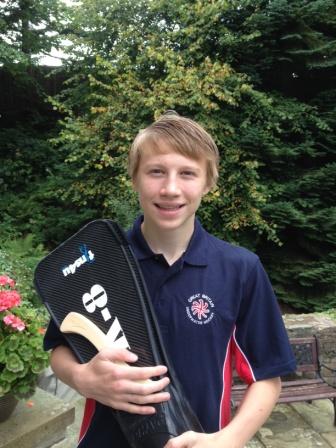 15 year old Zach Tait was called to join the under 19's Great Britain Underwater Hockey second squad (GB2) to play in the World Alternative Games held in Wales and team GB will face opposition from France, Spain, Netherlands and South Africa at the Newport International Sports Village on 20th - 24th August 2014.
Zach has been coached and playing underwater hockey for nearly 7 years at Rochdale Underwater Hockey club where coaches Mick Hyde and Barrie Whitehead have been pleased by his achievement and said: "He has taken part in numerous matches and tournaments over the years against teams from all over the country and now has the opportunity to make a splash at international level. It takes a lot of effort just to make the selection."
Zach's dad Ian, who also plays and coaches underwater hockey, said " I am pleased for Zach that all his hard work has paid off. When he decided to go to the National trials he was aiming to get into the under 16's GB squad only to be told the World Cup teams would be the U19 squad. Being only just 15 at the time I thought he had no chance as most players are 6ft plus being 18 or 19 years old. However, his determination pulled him through the 8 hour trial and he was selected. Very much a proud dad moment."
Zach is the tenth member of the Rochdale club to play for a GB squad, and the youngest so far.
At the end of the tournament, the men's u19 standings were -
Gold - France
Silver - GB1
Bronze - The Netherlands
GB2 came a creditable 4th, just missing out on the medals in a hard fought game against the Dutch.